MAN Powergen diesel engines
We supply diesel engines for generator sets that run at 1500 rpm for 50 Hz and 1800 rpm for 60 Hz countries. Our MAN diesel engines guarantee efficient energy generation whatever the application.
Areas of application:
Emergency Standby Power (ESP) for emergency power supply
Limited Time Running Power (LTP) for emergency power supply
Prime Power (PRP) for handling peak load (short-term peak demands)
Continuous Power (COP) mode for permanent/essential capacity
The advantages of Powergen diesel engines:
Tried and tested in the field
Reliable
Robust and compact
Low fuel consumption and maintenance-friendly
High capacity
The values in the summary below are based on 1,500 rpm.
You can reach out to our account manager for more information about powergen diesel engines: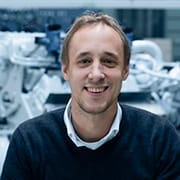 Jeroen van der Velde
Email: j.vandervelde@manrollo.com