MAN industrial diesel engines
MAN engines are known for their reliability and low operating costs, whether they involve diesel engines for cranes and trains or for large agricultural machines such as threshing and mowing machines. The engines with capacities of 180 to 880 kW are mainly supplied directly by MAN to OEM (original equipment manufacturer) suppliers. For special projects in the Netherlands, we are the customer's point of contact for MAN. Compact, economical, reliable and with excellent emission performances – these are the attributes that customers rely on and are also why they always choose MAN engines.
Our service
MAN Rollo's strength as an engine specialist is based on its engine knowledge, which goes much further than the OEM. The direct line with MAN in Germany guarantees the right knowledge and the most recent data about the engine to be used for the OEM product. Customers can opt for customised service contracts varying from agreements on resolving malfunctions to the complete package. Thanks to our horizontal organisation and short lines, MAN Rollo is flexible when it comes to scheduling and implementation. And our extensive team of mechanics ensures that we can always help our customers quickly.
Would you like to know more about our MAN industrial diesel engines? Please ask our account manager:
Dennis Singeling
Email: d.singeling@manrollo.com
Would you like to know more about our MAN industrial diesel engines? Please ask our account manager: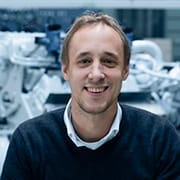 Jeroen van der Velde
Email: j.vandervelde@manrollo.com